Frequently Asked Questions
How do I modify a Pmag 10/30 block to fit other magazines?
Please see the videos under the FAQ tab or use the photo below to see which modifications are needed. Note that some USGI 20 round magazines which have a slight curve to them require the top tap to be left in place like a Pmag 10/20 block, but the bottom tab is removed. If in doubt test with the tab left in place first. Colt 20 round magazines require additional modifications. See our Colt 10/20 product listing for details. Note that USGI milspec green followers will need modification or replacement with antitilt followes to fit all 10 rounds. Again see the USGI 10/30 product listing for details.
______________________________________________________________________________
Legal Issues and Questions
CAUTION: Firearm laws are subject to frequent change and court interpretation. This summary is not intended as legal advice or restatement of law. This summary does not include all federal or local laws, ordinances or regulations. For any particular situation, a licensed local attorney must be consulted for an accurate interpretation. YOU MUST ABIDE WITH ALL LAWS: STATE, FEDERAL AND LOCAL. More info on state gun laws can be found here: http://www.nraila.org/gun-laws/state-laws.aspx

Magblocks are designed to help you to comply with magazine restriction laws for hunting or sporting uses only. Please be aware of the law in your area. Fitting may be required on some products due to variations between magazine manufactures, product lines, and changes in magazine design and materials. Please test your magazines during installation to be positive that the desired round count is achieved and modify as needed before use.
Do I need to use epoxy? What does the law state?
This question comes down to what is considered "permanent" by California, or "readily restored" by New York law, New Jersey, and other states with this wording of the law. Play it safe and use epoxy, roll pins, rivets or other added measures of safety to seal the magazine floor plate closed. NJ specifies that more is needed than a temporary "block of wood" so epoxy or other additional modification is required. Epoxy is strongly recommended for use in all areas.
The California DOJ is considering proposals that using a Magazine Block and epoxy or riveting are acceptable methods to make a magazine permanently 10 rounds 12/16/2016. Currently no complete description of what is considered permanently altered exists.
The state laws are listed for your convenience below. These may not be up to date with the current push for even more gun control laws against us law abiding citizens.
California:
Penal Code section 16740 defines "large-capacity magazine" to mean any ammunition feeding device with the capacity to accept more than 10 rounds, but shall not be construed to include a feeding device that has been permanently altered so that it cannot accommodate more than 10 rounds.
Proposed 12/16/2016 Subject: Emergency regulations regarding Large-Capacity Magazines https://oag.ca.gov/firearms/regs
Prior proposed, but withdrawn by the DOJ, but does show they comsider MagazineBlocks limiters an acceptable method of conversion:
§ 5491. Large-Capacity Magazine; capacity (a) Prior to July 1, 2017, large-capacity magazine permit holders may accept large-capacity magazines, as defined in Penal Code section 16740, from California residents for the purposes of permanently altering the magazine's feeding device so that it reduces the capacity to 10 rounds or less. (b) Prior to July 1, 2017, an individual may dispose of a large-capacity magazine by permanently altering the magazine's feeding device so that it reduces the capacity to 10 rounds or less. (1) A large-capacity magazine that is a box type can have its capacity permanently reduced by using both of the following methods:
(A) Inserting a rigid magazine capacity reduction device, also known as a magazine block, into the magazine body and then affixing the floor plate of the magazine to the body of the magazine with permanent epoxy. Metal magazines with metal floor plates have the option of being either welded closed or permanently epoxied closed once the magazine block(s) have been inserted. Due to magazine manufacturing variations (such as drum magazines or tubular magazines) it may be necessary to insert multiple magazine blocks in order to reduce the capacity to 10 rounds.
New York:
NY Section 265.00.23 See information on the "SAFE" Act here:
http://www.governor.ny.gov/nysafeact/gun-owners
New Jersey:
(Changed to 10 round limit June 2018) 180 day grace period to limit magazines to 10 rounds.
Last updated 2012. http://www.njsp.org/info/pdf/firearms/062408_title13ch54.pdf
"Large capacity ammunition magazine" means a box, drum, tube or other container, which is capable of holding more than 15 rounds of ammunition to be fed continuously and directly therefrom into a semi-automatic firearm.
A large capacity ammunition magazine that has been

permanently altered

so that it is not capable of holding more than 15 rounds of ammunition will cease to be defined as a "large capacity ammunition magazine."
An ammunition magazine, which has been temporarily blocked or modified from holding more than 15 rounds, as by a piece of wood or a pin, is still considered to be a "large capacity ammunition magazine." Recemmended to epoxy limiter in place or magazine closed.
Connecticut:
January 1, 2014 §§ 23-24 — LARGE CAPACITY MAGAZINES
The bill defines "large capacity magazine" as any firearm magazine, belt, drum, feed strip, or similar device that can hold, or can be readily restored or converted to accept, more than 10 rounds of ammunition. It excludes: 1. feeding devices permanently altered so that they cannot hold more than 10 rounds of ammunition.
http://www.cga.ct.gov/2013/ba/2013SB-01160-R00-BA.htm
https://www.jud.ct.gov/lawlib/law/firearms.htm
Massachusetts:
Currently under modification. See your states law for actual text.
Under Massachusetts law, a "large capacity feeding device" is defined as: "(i) a fixed or detachable magazine, box, drum, feed strip or similar device capable of accepting, or that can be readily converted to accept more than ten rounds of ammunition or more than five shotgun shells; or (ii) a large capacity ammunition feeding device as defined in the federal Public Safety and Recreational Firearms Use Protection Act, 18 U.S.C. section 921(a)(31) as appearing in such sect ion on September 13, 1994." Ch. 140, § 121.
Colorado:

On and after July 1, 2013, it will be unlawful to possess, sell or transfer a "large capacity magazine." The definition of a "large capacity magazine" includes those magazines or any devices that are fixed, or detachable and can hold more than 15 rounds or be readily converted to hold more than fifteen rounds. The prohibition on possession of a "large capacity magazine" does not apply to a person who owned the magazine on July 1, 2013 and who maintains "continuous possession" of the magazine.
A shotgun magazine may not accept more than eight shotgun shells if it is a detachable magazine or hold more than twenty-eight inches of shotgun shells if it is a tubular magazine. A .22 caliber rimfire rifle or lever action rifle that can hold more than 15 rounds in a fixed tubular magazine is not included as a "large capacity magazine."
Hawaii:
(c) The manufacture, possession, sale, barter, trade, gift, transfer, or acquisition of detachable ammunition magazines with a capacity in excess of ten rounds which are designed for or capable of use with a pistol is prohibited. This subsection shall not apply to magazines originally designed to accept more than ten rounds of ammunition which have been modified to accept no more than ten rounds and which are not capable of being readily restored to a capacity of more than ten rounds. §134-8 http://www.capitol.hawaii.gov/hrscurrent/vol03_ch0121-0200d/hrs0134/hrs_0134-0008.htm
What if less than 10 rounds fit in my USGI magazine?
The most common cause of this is that the spring hangs up on the point at the top of the Magblock. Unassemble the magazine and reinstall the block making sure it goes in straight and does nat catch on a loop of the spring. The base of the block should be flat and not angled when closing the floor plate. Once installed correctly this will not happen again.
The second issue may be USGI milspec followers. These need to have the spike at the bottom trimmed or be replaced with aftermarket anti-tilt followers. This upgrade to anti-tilt followers is also the best upgrades to increase magazine reliability and is highly recommended. Magpul, ACS, and C products followers work great. This photo shows how to modify the regular followers.
Be sure to leave it a little longer at first and test fit. Trim further as needed for a custom fit.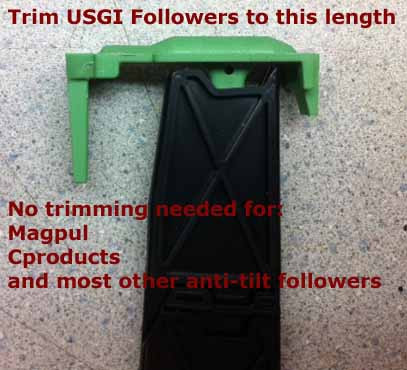 __________________________________________________________________________________________
How do I modify a block to fit Pmag Gen M3 Magazines?
The only required modification to work is trimming off the bottom rear tab on the Magblock. This will allow 10 rounds but may not load with the bolt closed in some rifles. Trimming of the top of the block will allow loading on a closed bolt, but you have to be careful not to trim too much.
______________________________________________________________________________________
If you must have the ability to load on a closed bolt with Gen M3 Pmags then the following modifications can be made. You have to test them as you go and only trim enough to allow loading with the bolt closed.
_______________________________________________________________________________________________________________________________________
Do Magblocks work with USGI Magazines and Ranger Plates?
While Magblocks work perfectly with Pmags and Ranger plates, the USGI magazines are more complicated due to the internal Magpul locking plate. They can be adapted to work by either trimming to block until 10 rounds fit using the original plate, or modifying a Pmag block and using epoxy to secure the ranger plate in place. We will show how to do both methods below. We will also start offering pre-modified blocks in our store for the second method since it is more complicated.
Method #1: Use Pmag block and leave out the Magpul locking plate.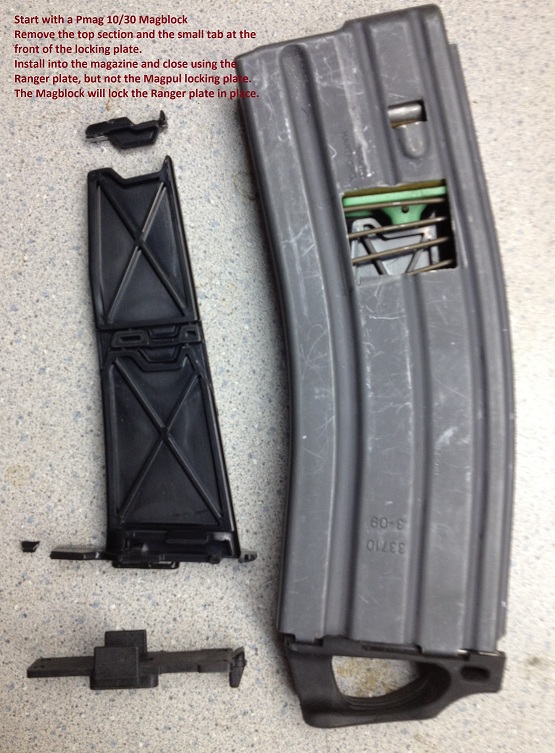 Method #2: Modify a Pmag or USGI block to allow use WITH the Magpul Locking plate.
These will be sold as an option under the standard USGI Magblock listing. Once modified these must be used with USGI Ranger Plates or they will hold more than 10 rounds.
What is the wait time for backorders?
If a product is backordered it usually means that it is only 1-3 days away. Products that don't allow backordering either have a longer wait time, or unknown available supply from our distributors. Products that we manufacture may be marked as backordered if we have a low supply, high demand, or we have to manufactured as they are ordered and thus might not ship out as quickly. Most orders ship out within 24-48 hours. We always email if there is an expected delay.
Do you ship internationally?
Yes, we will ship international orders to all allowed countries. Our products are not restricted by ITAR. We frequently ship to Europe, Australia and Canada and charge actual shipping. Please be aware that many variations of magazines exist. Some fitting may be required. Shipping replacements internationally may not be possible in all situations. Please double check your order for correctness and be sure your magazines match our test magazines.
Why don't you use Google Checkout anymore?
Google is anti-gun from our experience. Google Checkout suspended our account on 2/5/2011 and refunded all of the customers who used it even though these orders were already shipped. All orders through them were for Magblocks only and they still suspended our account! They even forbid using advertising of firearm search terms! I recommend gun owners not support a company like this and use our secure credit card processor instead.
We now accept credit cards through our secure website. Paypal is also accepted for many items since they changed their policy to allow most items legal to purchase in California. Paypal is still not gun friendly, but we will keep them as an option for now. At least they don't consider magblocks a weapon.
We strongly recommend using our secure SSL and encrypted credit card processor gateway for transactions. We can also accept checks or money orders if requested. Checks are preferred for our wholesale customers.
Shipping Questions:
Shipping is currently based on total order price and is priced to correspond with actual shipping cost based on weight for USPS first class mail or priority mail for larger orders. Priority mail can also be chosen as an option. The cart now calculates and shows shipping.
The USPS now puts an expected transit time when selecting Priority Mail. This is an Approximation Only. You are not paying extra for 1 day or 2 day shipping. It is still 1-3 day Priority Mail. It also has no effect on when we ship. Orders still take about 24-48 hours to process since many items are custom made as ordered.
Can I pay by Money Order or Check?
Yes, Just place the items in your shopping cart and go through the steps of checkout to get a shipping and tax total. Print out a copy of the order including tax and shipping. Please include your email address incase we have any questions. Then just mail your order with payment to:

MagazineBlocks LLC
4091 Saint Marys St.
Martinez, CA 94553


Where are these made?
We are proud to say that all of our manufactured products are Made in the USA! We will never send jobs out of the country. This makes our products slightly more expensive and we feel it is worth it.
Our gray Magblocks are made of a very strong fiber-reinforced urethane polymer and heat stable up to 265 degrees F! They also have a silica filler that makes sanding and cutting easier and the product lighter. The Black Pmag and USGI blocks are Acrylonitrile butadiene styrene or ABS, the same stuff that Lego's are made of. Also very strong against compressive forces and heat stable to 176 degrees F.
Can you make custom blocks?
Custom blocks are available for some common magazines upon request. A minimum order is required and you may have to ship a magazine rebuild kit for fitting. Email us at magblocks@gmail.com for details. Some of our blocks can also be cut to make 15 round magazines for New Jersey residents.
OEM's please contact us for details if you would like a custom injection molded Magblock for your product line.
Where do I find magazines?
Many states allow for standard capacity magazines to be modified permanently to low capacity 10 round magazines. These are legal to own if the law is fully complied with and can be sold or transferred just like any other 10 round magazine.

US Patent Numbers and other information:
US PATENT # 9328982 B2, Additional Patents Pending. MagazineBlocks.com, MagazineBlock.com, MagazineLimiter.com, MagazineLimiters.com are trademarks of MagazineBlocks LLC. All website material is copyright od MagazineBlocks LLC.